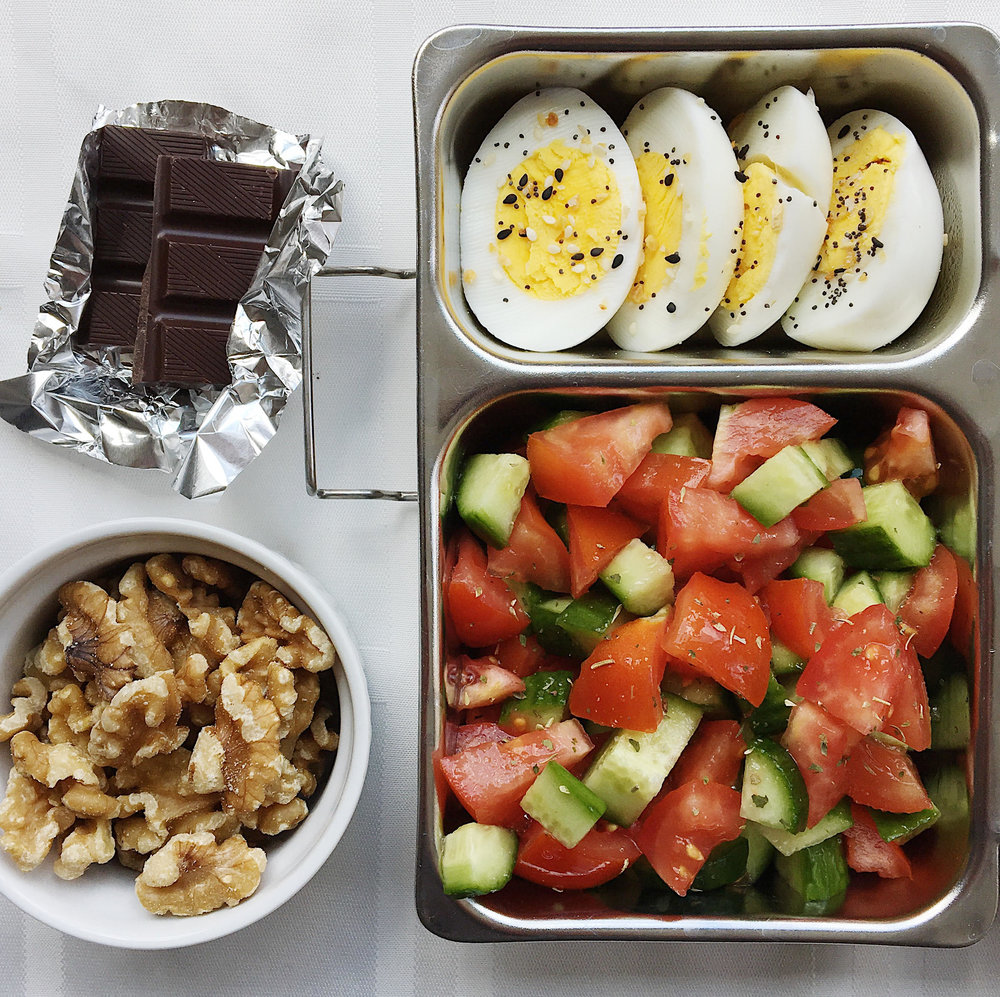 GROCERIES
Walnuts, 1 3.75-cup bag

Eggs, 2 dozen

Canned roasted tomatoes, 2 15-oz cans

Tomatoes, 10 medium

Cucumbers, 5 medium cucumbers

Feta cheese crumbles, 2 6-oz tubs

Dark chocolate, 5 280-calorie bars

Spinach greens, 5 4-cup bags

Canned salmon, 1 15-oz can

Avocados, 3
BREAKFAST SHAKSHUKA
2 eggs

½ cup canned, roasted tomatoes

1 small tomato, chopped

1/8 cup chopped walnuts

1/8 cup feta cheese

Seasonings: salt, pepper, basil, oregano to taste
Instructions: Spray pan with olive oil spray. Add tomatoes. Crack eggs into pan. Cook on medium heat covered, for ~8 minutes. Top with feta and walnuts.
Cost: $1.47
Calories: 350; Carbohydrates: 14gm; Protein: 19gm; Fat: 22gm
MEDITERRANEAN LUNCH BOX
2 hard boiled eggs

¼ cup walnuts

1 cucumbers, chopped

1 tomato, chopped

½ bar dark chocolate

Seasonings: salt, pepper, basil, oregano to taste
Instructions for Israeli salad: mix tomato & cucumber; top with seasoning to taste
Cost: $2.27
Calories: 525; Carbohydrates: 72gm; Protein: 24gm; Fat: 27gm
DINNER GREENS & SALMON PATTY
Greens
4 cups spinach greens

1/8 cup feta cheese crumbles

1/8 cup walnuts

½ avocado (for on the side)
Directions: spray pan with olive oil spray; sauté greens on medium heat for ~4 minutes until desired consistency. Top with walnuts and feta.
Salmon patties – makes 5 servings
1 can salmon

1 egg

1/3 cup crushed walnuts
Directions: drain salmon in can. Mix salmon and egg in large bowl. Create 5 patties. Press patties on both sides into crushed walnuts until coated. Spray pan with olive oil spray. Cook patties on medium heat in a covered pan, ~7 minutes on each side.
Cost: $3.69
Calories: 450; Carbohydrates: 13gm; Protein: 27gm; Fat: 33gm
This post is sponsored by California Walnuts. As always, all opinions are my own.